Home
White Sand Villa is located in beautiful Placencia, Belize, a one time sleepy fishing community that has become one of the most popular tourist destinations in Belize.  The Placencia area is known for its exquisite white beaches, beautiful offshore cayes, and proximity to the lush Belizean interior full of tropical rainforests.  It is easy to see where White Sand Villa came by its name.
White Sand Villa is the perfect vacation home and is not just a place to hang your hat.  This brand new two-bedroom home is complete with a spacious living room, fully equipped kitchen, private bath with hot/cold water and a large verandah that faces the beautiful Caribbean Sea.  White Sand Villa is completely screened.  Sorry, no air conditioning with the cool breeze coming off of the sea there is no need.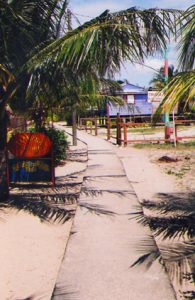 Overlooking the famous Placencia Sidewalk, once known as the narrowest street in the world, White Sand Villa is conveniently located just a short stroll away from everything Placencia Village has to offer restaurants, stores, tour providers and village night spots.   White Sand is just up the sidewalk from the Placencia primary school, a stones throw away from Placencias famous beaches and is in one of the villages quietest neighborhoods.  The perfect spot to get the real feel for village life.
White Sand Villa is perfect for everyone families, friends, honeymooners, or couples – that is in search of a piece of paradise, whether for a few days or a few weeks.
White Sand Villa is the dream home of James & Ardith Grover, who in another life were newlywed Peace Crop Volunteers stationed in Placencia in the mid 60s.  Placencia held a place near and dear to their hearts and after your first stay at White Sand Villa it will for you too.